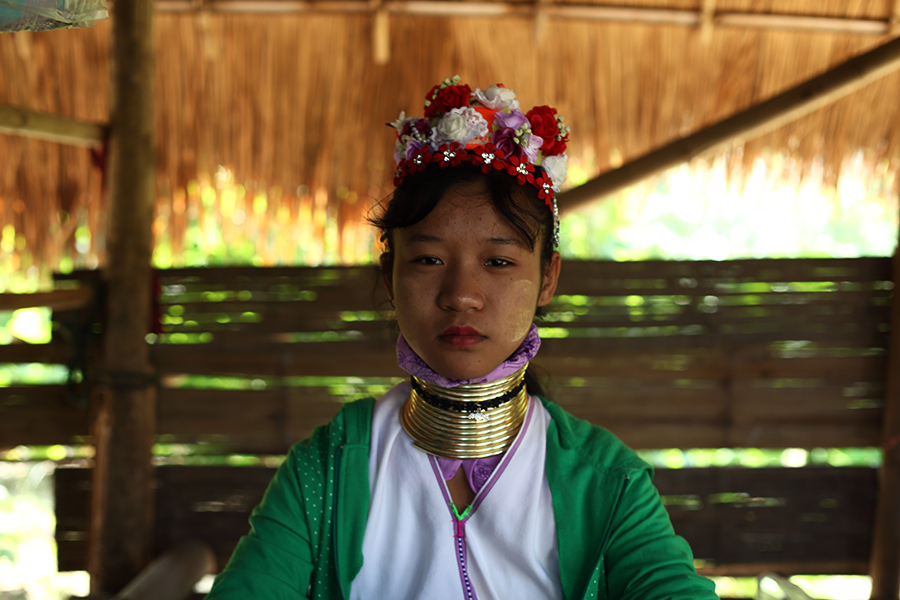 [fr] Les karen sont un groupe ethnique tibéto-birman de 4 à 5 millions de personnes dont 10 % environ vivent en Thaïlande et 90% en Birmanie. Les Karens vivent majoritairement en Birmanie dans trois régions : au Sud-Ouest, dans le delta de l'Irrawaddy au centre, dans le massif montagneux de Pegu Yoma, et à l'Est, dans les collines frontalières de la Thaïlande, depuis le sud de l'état Shan jusqu'au Tenasserim, les états Karen et Kayah étant les régions qui rassemblent le plus de Karens. Une minorité habite la Thaïlande, où ils sont présents tout au long de la frontière birmane, particulièrement nombreux dans la province de Tak, dans leurs villages d'origine et de plus en plus dans les camps de réfugiés.
En Birmanie, on se réfère également aux Karens sous les termes « Kayin », « Kariang » ou encore Yang. La difficulté croît davantage lorsque l'on sait que les Karens sont souvent confondus avec la tribu Padaung, célèbre notamment pour ses « femmes girafes » et leur collier-spirale en laiton enroulé autour du cou. En fait, les Padaung sont un sous-groupe du peuple Karen.
En Thaïlande, le tribu Karen s'érige aujourd'hui en véritable porte étendard de la diversité et de la préservation des us et coutumes des peuples qui refusent de faire fi de leur mode de vie traditionnel, en dépit des influences exogènes de plus en plus insistantes. Les femmes perpétuent une ancienne tradition qui consiste à allonger leur cou portant de multiples anneaux à un âge parfois très précoce.
[en] The Karen are a Tibetan-Burmese ethnic group of 4 to 5 million people, about 10% of whom live in Thailand and 90% in Burma. The Karen people live mainly in Burma in three regions: in the southwest, in the Irrawaddy Delta in the center, in the Pegu Yoma mountain range, and in the east, in the hills bordering Thailand, from the south from Shan state to Tenasserim, Karen and Kayah states being the regions which gather the most Karen people. A minority live in Thailand, where they are present all along the Burmese border, particularly numerous in Tak province, in their home villages and increasingly in refugee camps. In Burma, the Karen are also referred to under the terms « Kayin », « Kariang » or even Yang. The difficulty grows even more when we know that the Karen are often confused with the Padaung tribe, famous in particular for their « giraffe women » and their brass spiral necklace wrapped around their necks. In fact, the Padaung are a subgroup of the Karen people. In Thailand, the Karen tribe stands today as a true standard bearer of the diversity and the preservation of the habits and customs of the peoples who refuse to ignore their traditional way of life, despite the increasingly exogenous influences. Women carry on an ancient tradition of lengthening their necks wearing multiple rings at a sometimes very early age.